What cable should i use for a Hot Tub Cable ?
What cable should i use for a hot tub is a question we often get asked and when it comes to wiring your Hot Tub you have lots of cable options available to you depending on the environment and protection you might require. We have listed many of the cables that customers and electricians have requested from us over the years to try and make it easier for you.
 Armoured Cables – Also know as SWA , SWA means Steel Wire Armour so the construction of the cable is generally a XLPE insulated core / Cores surrounded in a PVC jacket then a layer of SWA covered by a PVC or LSF outer jacket. These cables are suitable for external use / direct burial and offer you a level of mechanical protection / safety should you forget where you buried it and hit it with a shovel when gardening years later. Link to our page here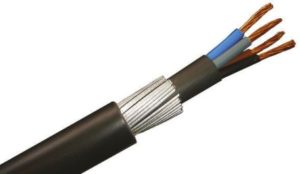 NYY Cables – These cables are used extensively throughout Europe as their version of our SWA cables commonly used in the UK although they do not have any form of armour. They are suitable for external use and for direct burial and more and more people like the increased flexibility of this cable over the SWA cable. Link to page here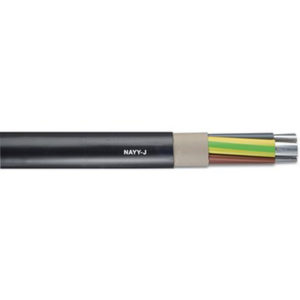 Rubber Cables –  H07-RNF -These harmonized  rubber insulated and jacketed cables offer the greatest level of flexibility and smallest bend radius as the conductors are generally class 5 stranded and therefore much easier to work with. Like all the other choices the cables are suitable for external use and direct burial but unlike the SWA they don't offer any Armour or mechanical protection. Page link here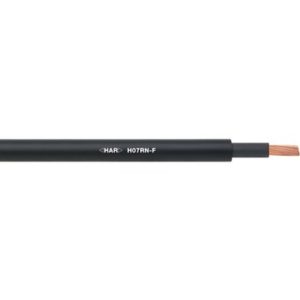 These are the cables generally used for running power from the power source to the Hot Tub however internally in the Hot tub you may also have a selection of single wires and PVC multicore cable cables which we can also supply if required.
Cable size selection 
If you are trying to calculate the cable size you might need then the nominal Amp ratings for a cables cross sectional area are below , however these do not reflect any de rating factors which you should consider as these are relevant  to specific installation and include de rating factors for distance , installation , bundling , burial or in open air , Working temperature
1mm – 10 Amp
1.5mm – 16 Amp
2.5mm – 25 Amp
4.0mm – 32 Amp
6.0mm – 40 Amp
10.0mm – 63 Amp
16mm – 82 Amp
Contact Cables are one of the market leading Online cable specialists in the UK with 20+ years of industry experience in selecting the correct cables for customer installation / application needs so if you need any help with you cable selection then all you need to do is ask one of our specialist team and they will be happy to assist you.
If you need any help with your cable selections on this style of installation or indeed any cable requirements you have then email the sales team directly on sales@contactcables.com or call the team directly on 0044 1480 861348